Uncompahgre Plateau
Climbing
Starting just west of Grand Junction Colorado the Uncompahgre Plateau stretches south towards Telluride. Cutting through this uplifted plateau are several canyons that have exposed rock that makes up some great climbing areas including in the Colorado National Monument, Unaweep Canyon, Escalante Canyon, and handful of smaller crags. These climbing areas are full of private property and access issues so we created a couple of maps to help people find there way around. We have made these PDF files available for download for free for personal use only. The files are pretty big as there was a lot of info to put into them.
These maps are a work in progress and do not reflect every developed crag. For now we have focused on the crags that have been published and plan to continue to add to it as more areas are ready to share with the public. We make no guaranties of the information on these maps and would appreciate feedback to help us improve or correct inaccuracies.  
The Unaweep map was created for a guide book that I am currently working on for the roped climbing in the Canyon. I am not including any crags outside of the Hwy 141 corridor but I do love maps and decided to spend a few hours making one for Escalante canyon as well. I expect this Unaweep Book to take 3-4 years to complete (starting in fall 2021) and my hope is to not only give details on the crags and routes but also the history of the climbing in the canyon. I believe a guidebook should be a chronicle, a history lesson passing on the knowledge and experiences of those that came before. I personally love to hear stories from the people that developed and had adventures in the areas I love, and my hope is to include as many of those stories as I can so that our history isn't lost. 
Unaweep Canyon
Cutting through the Uncompahgre Plateau is an ancient pathway of the Colorado river that cut through a layer of Precambrian basement rock. To view a high resolution PDF of this map, download it from the link in the button.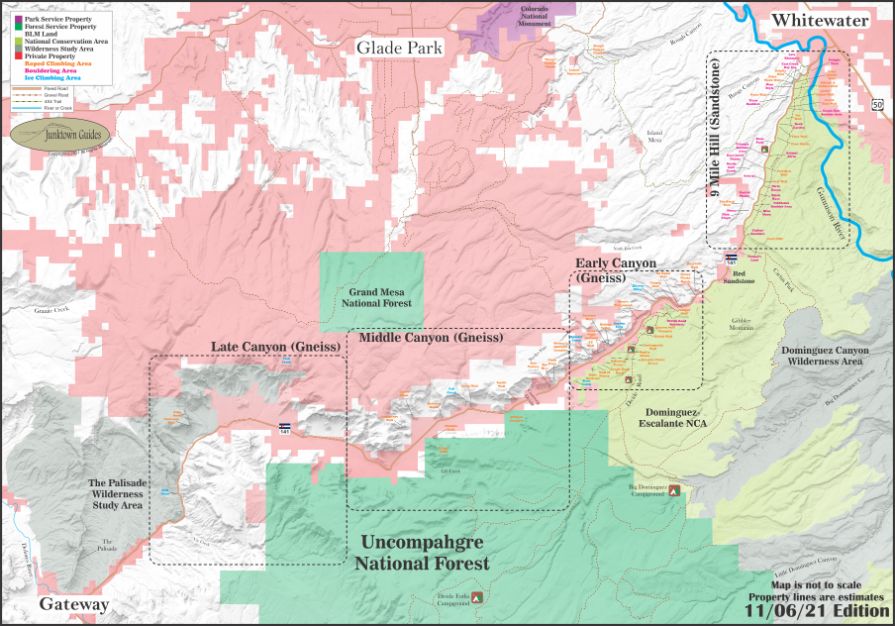 Escalante Canyon
Escalante Creek cut through a layer of Wingate Sandstone creating a winter oasis for local climbers. At this time I have no intention of writing an Escalante book, but if no book is written by the time I finish Unaweep I may. To view a high resolution PDF of this map, download it from the link in the button.