If I had to choose between the river and climbing, I don't think I could. From time to time one becomes more important to me and I focus more energy on one than the other but that flips all the time. I've been climbing longer but since I started kayaking in 2009, I've been just as obsessed with it as I have climbing. I eventually obtained a raft which is great for bringing Aukie or non-boating friends and I've been slowly piecing together all the parts and pieces I need to make trips more comfortable.
While I was out in LA working at that metal shop, I decided to build myself a custom dry box for the raft that would suit my needs. This wasn't the first dry box I had built; I had built one out of scrap material many years ago while working at another shop but the size made it not all that usable in the raft. I don't really remember any details from the first dry box I made, I walked past the scrap bin at work one day and some one had messed up on some cuts that were almost big enough for a good box. I used it for a few years for other things but eventually sold it to a buddy of mine.
Having access once again to the machines that I did I wanted to make something I couldn't buy. I wanted a custom fit that would take the place of the seat that got ripped off when I ran a class IV upside down, long story, but I also wanted some features I haven't seen on a box in a while. Now at first, I did have the problem of being in LA while my raft was still in Colorado. I didn't bring it out with me because I knew the closest real river was several hours away. On one of my trips back to CO I grabbed it and brought it to LA with me but this was after I attempted to design and build a box without it.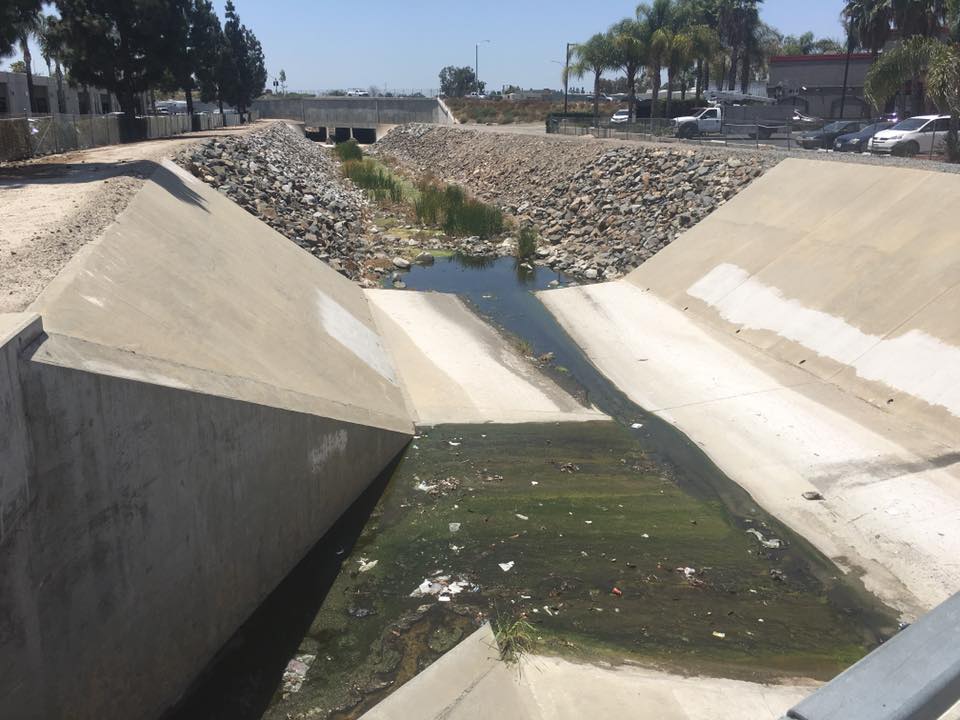 Typical river or creek in Los Angeles, city life….
This first box was a little on the big side, to put it lightly. To design it I went on to a couple of websites to see what sizes they were making these standard and went a little bigger. Well as it turned out this was too tall and a little too wide. The box is still usable just not on the raft, for now I'm using to store gear when I'm not on the river. I made it 33"L X 19"W X 22"D out of .090 5052 aluminum with the lid out of .125 (1/8") 5052. When dry boxes fail it's usually in the corners so I bent a 1" leg in and then welded a lap joint instead of a corner to corner weld. The hinge is ¼" pin aluminum 27" long, it's a pretty stout box.
The last box I built 40"L X 24"W X 16"D, I used the same materials but this time I put two shorter hinges instead of one long one. As I was bending the lid it slipped and miss bent on the last bend. It wasn't off by much but enough that I couldn't hammer it around. I ended up cutting that leg off and welding a new leg on, my time was cheaper than a new sheet of material. It warped the lid a little but it's workable. I welded angles on in 4 places to sit on the bars of the raft frame and the handles I welded a piece of pipe to either side to thread a strap through for handles. I then cut two more pieces of pipe for the grips. I thought about using rope and tying these on but with a cam strap I can adjust the length and even take them off when in the raft, one less thing to get tangled in. I finish the welding on this box on my last day of work in LA before getting the hell out of that god forsaken place.  
I still have some finish work to do to the final box but I used it throughout the summer on several trips including a 3 day 2 night, 4th of July, Slickrock to Bedrock trip down the Dolores River and an overnight from Escalante to Whitewater on the Gunnison. The box is serving me well, the bigger size and custom features make it nice.