So here's the rub, at 41 years old I was in the worst shape I'd been in for a while, maybe even in my life. With work and building my camper I didn't leave myself any time to take care of myself. I have a tendency to do that, I bury myself in projects thinking all along that once I finish "this" I'll be able to do more training, more climbing, more kayaking, more livin man, L-I-V-I-N. I did this all through my 30s when I bought an old house and remodeled it one room at a time till I bought a rundown, failing climbing gym and turned it around. This time was particularly bad because I was burying myself to finish a project so that I could live on the road and enjoy life but what's the point if I was going to be in horrible shape to start off. I tried to train while I was in LA but every time I would start I would go strong for 2 weeks then get buried in projects again. It's an excuse really, I lacked the motivation to push through and train anyways. So now I'm 42, half way to the grave but far from past my prime. I figure I still have a good 20 years of chasing audacious goals but only if I do it right. You don't stop being active because you get older, you get older because you stop being active. What are these audacious goals? My primary activities are rock/ice/mountain climbing and white water kayaking but I also like to ski, mountain bike, white water raft, hike and most other outdoor activities. I want… Read More…
Second Cycle: 11 Weeks
Chasing Audacious Goals
In this cycle I will continue to build up my base level of fitness but I am also going to start doing some climbing specific training. I have set my sights on my first audacious goal and I will be working towards that goal. I will also be working on my posture so that I can get into alignment and stand up straight. This will be an 11 week cycle because of how the math worked out. I started training when I started, I got the motivation one day and just started, that was the beginning of the first cycle. As I looked at next years calendar I took the date of the CB3P and counted back 12 weeks, that will be the th… Read More…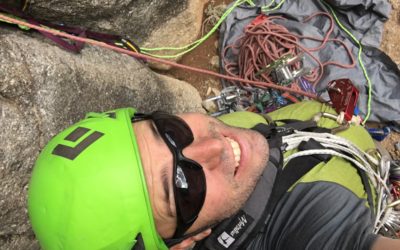 I didn't have time to finish creating my exercise plan for the week, I went to the American Alpine Club's Craging Classic in Moab over the weekend and had a great time but it meant starting the week without my plan finished. No big deal though, I managed to get it...
First Cycle: 12 Weeks
Building the base
It's hard to change from a sedentary lifestyle to an active one. It's easy to fall back into old habits and routines and/or get discouraged by poor performance or abilities, especially if you've been active in the past. Before I started this program I did some hiking to bring my base level of fitness up a little higher. Every time I started to train over the last couple of years I was in such bad shape it was very discouraging. I tried to push through but lost out to laziness each time. This time I decided to break back into it differently, I started by hiking 3-4 times a week to get to a higher base level. I worked my way up from 5 mile hikes to 15 mile hikes but also did a lot of shorter but much steeper hikes mixed in. On these hikes I would power my way up any hills and after a few weeks of this my goal was to maintain a minimum of 3 mile per hour pace regardless of steepness. This tactic has… Read More…
So, here I am after 12 weeks, a little stronger, a little leaner, with stronger lungs, and less back and knee pain…. I keep trying to remind myself that its not about short-term gains but it is still a little disheartening to struggle as bad as I still am on each...
As with any exercise routine you should make sure you are healthy enough before you start. Know your limits and listen to your body. This site offers health, fitness and nutritional information and is designed for educational purposes only. You should not rely on this information as a substitute for, nor does it replace, professional medical advice, diagnosis, or treatment. If you have any concerns or questions about your health, you should always consult with a physician or other health-care professional. Do not disregard, avoid or delay obtaining medical or health related advice from your health-care professional because of something you may have read on this site. The use of any information provided on this site is solely at your own risk.