Over the years I have worked with fiberglass many times but this was the biggest job I have done yet. In my early 20s I was into building car stereo systems for competitions and I used fiberglass to reinforce sub woofer boxes or to build custom stereo or speaker mounts. I mostly did this for friends, and got paid in beer. I've also built a few small things here and there and I use fiberglass in my mold making process when making molds for 
PUR
. This, this was something else, something much bigger. I started last weekend covering the nose of the camper and then started on the underside this weekend.
It's not difficult to glass something but it is tedious and time consuming. I spent two 10 hour days prepping and glassing over the weekend and still didn't finish but I got it done over the next week working on it after work. I wanted to have a strong nose in case I hit a rock or a bird. I also coated the entire underside for water proofing. Even though I used treated plywood I figured it would just be better to seal it up. I considered coating the entire camper but I'm not going to, I've already bought my side panels and roofing materia, besides the fiberglass isn't all that pretty.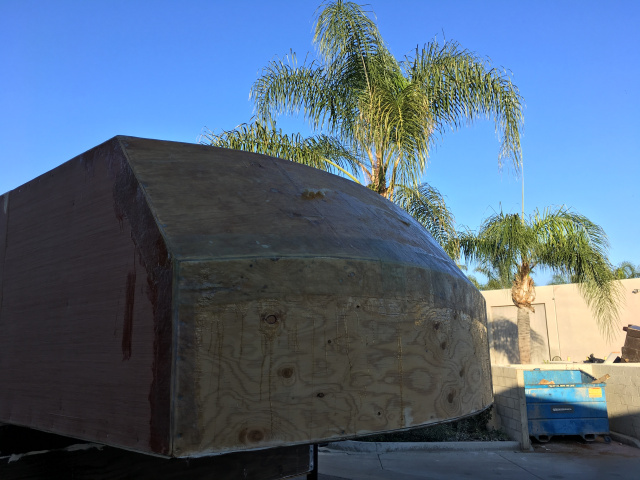 To work on the bottom side I had to stand it up. I wanted to pull it inside the shop while it was raining but it was too tall. It really only sprinkled a little bit here and there over the weekend so it didn't really slow progress all that much.
I then laid it back down and did a little sanding. I just took down the high spots and sharp spots I didn't sand it smooth.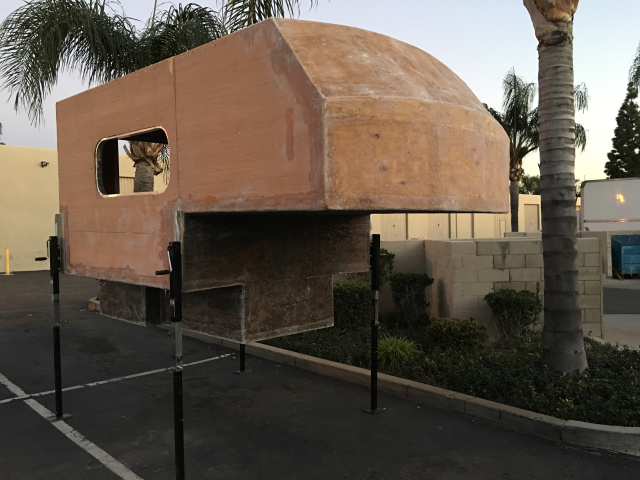 In all my years working with fiberglass I've never gotten it on me or ruined any clothing, until now. I destroyed a pair of Kuhl Radikl's and an Access Fund shirt, small price to pay a guess.