I didn't have time to finish creating my exercise plan for the week, I went to the American Alpine Club's Craging Classic in Moab over the weekend and had a great time but it meant starting the week without my plan finished. No big deal though, I managed to get it done in time to get my routines in. Moab was amazing, I got to hang out with some friends I haven't seen in a long time. I also got some sport climbing in at one of the local crags where I got the redpoint on the hardest route I've climbed in a couple of years, not a bad way to start a new cycle. It was a fun, short but powerful 5.11a that I first jumped on, on top rope but I one fell it on my first try so I pulled the rope, ate a small snack, then led it on my second attempt for the red point. The training is paying off and I'm psyched.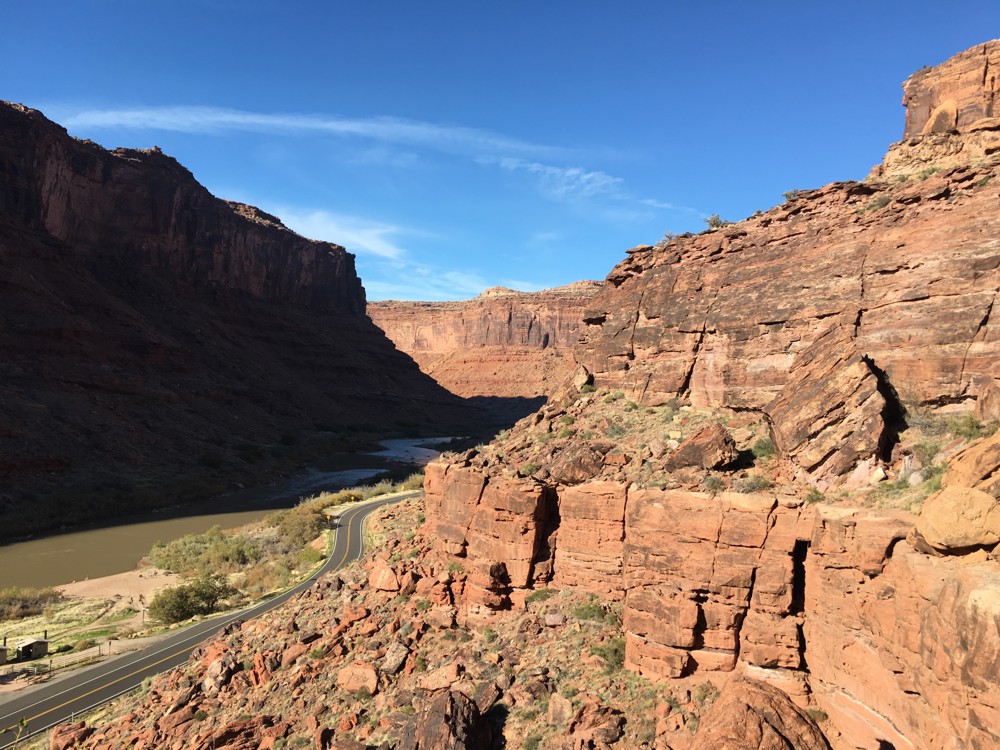 Circuit of the week
Round 1
Pull ups *
Squats
Lateral step and toe touch
Paint Cans **
Round 2
Dips **
Calf raises
Bird dogs
Breakdancer
* Hang Board 
** Paint can apparatus 
Monday
I just had a skeleton of a plan for the week but I still got all of my routines done for the day. Today was the first day of working on my posture. Originally, I had it laid out like cardio and circuits with a timer instead of reps. I decided after today that I needed to take my time more with these exercises to insure my form is correct. So, after completing it the way I had laid out I sat down and re-laid it out. I kept the timer for the stretching and a couple of exercise like dead hangs.
Tuesday
I woke up early but my head was all over the place, bouncing in and out of different life things. I tried to take control and meditate but it was futile. I got up and did Tai Chi and the new layout for my posture. The new layout is much more effective and I really got worked doing it. It rained all day and while most of the job I'm working is indoors the only thing I had to work on today was outside so I spent most of the day finishing my layout for the week and modifying my paint can apparatus. In the evening I headed down to the climbing wall in Montrose and climbed for 2 hours, getting a good warm up in before projecting a couple of .11s and even jumped on a .12 for a couple of tries. Headed back home and did Core! and circuits.
Wednesday
I woke up and did meditation and the rest of my morning routine. I worked on the house most of the day. In the evening I embarked on my normal ritual of drinking a beer or 6 while cooking dinner and that made it difficult to do cardio so I just went to bed. I've learned this lesson already but I have to remind myself from time to time. Beer is for after workout, not instead of workout.
Thursday
I got up and did my meditation and morning routine. I worked on the house most of the day. I drove out to an outdoor crag to the west of Montrose to do some jugging and hauling practice but had a little trouble getting there. First off google maps was taking me to the wrong place but fortunately a giant boulder or two fell into the road a long the way making me turn around before driving all the way out to the wrong place. The boulders fell on to the road close to the bottom of a steep hill with a 4X4 road just a little wider than my truck. On one side of the road was a steep drop off and the other a nice rocky cliff. I couldn't turn around so I dropped it into 4 Low and backed my way up the hill. The sun had just gone down, there was barely enough light to see to not drive off the edge or into the rock on the other side. After, I found my way to the crag but it was pitch black and getting cold so I called this a reconnaissance mission and headed back home. When I got back I did Core! and Circuit before bed.
Friday
I spent the day Friday packing for the weekend and preparing for Saturday. I designed a new adjustable fifi hook and the shop where I had them water jet cut called to let me know they were ready. I had them cut and bent but I had to drill and tap the holes. No workouts today.
Saturday
So up until today I had led two pitches of aid and that was a few years ago. Today was mostly about getting systems figured out. I headed out to Unaweep to aid up some of the single pitch cracks. I learned a lot and the main thing I learned is that I still have a lot to learn. Psyched to be learning something new though, last time I got my ass kicked by a something new was when I learned to whitewater in 2009.
As with any exercise routine you should make sure you are healthy enough before you start. Know your limits and listen to your body. This site offers health, fitness and nutritional information and is designed for educational purposes only. You should not rely on this information as a substitute for, nor does it replace, professional medical advice, diagnosis, or treatment. If you have any concerns or questions about your health, you should always consult with a physician or other health-care professional. Do not disregard, avoid or delay obtaining medical or health related advice from your health-care professional because of something you may have read on this site. The use of any information provided on this site is solely at your own risk.