Randall Chapman
And Aukie (ah-key)
I started rock climbing when I was in my mid 20s and had gone back to school to take machining, welding, and drafting and worked towards an engineering degree that I never completed. My first exposure to climbing came in 7thor 8th grade when my math teacher showed the class a climbing video instead of lecturing like he always did one Friday every month. It wasn't because he was a climber, I don't think he ever did anything athletic, he would just show extreme sports videos to break up the monotony of jr. high math. This was in 1988 or 89 and at the time I had never heard of a climbing gym and had no idea of the amount of climbing that was available within driving distance of the LA area. None of my friends or family were into the outdoors with the exception of my mom that loved to go hiking and camping. The desire to learn to climb just kind of smoldered inside me till I saw it on the coarse schedule at the jr. college I was attending.
I definitely got my love for the outdoors from my mom, she loved to be outside. When her and my dad divorced we went to live with my dad and we would visit her on the weekends which were usually trips up to the Mount Baldy area for hiking and picnicking. I remember one hiking trip up the Ice House Canyon trail we were passed by two climbers, with ropes and gear dangling, they left the trail and headed straight up the hill to climb, possibly here. I wanted to follow but my mom called them crazy and kept us hiking up to the saddle. I can't remember if this was before or after the climbing video, it was 20+ years ago, but it also stoked the ambers. In high school I watched K2 with Michael Biehn, Matt Craven and became enthralled with mountaineering.
I was the black sheep of the family and as such had a pretty rough child hood. This combined with the loss of my mother at the age of 16 led me to a series of bad choices that lasted till I was in my early 20s. Around 23 years old, having not done any hiking or back packing since high school, I read somewhere that Mt Whitney was the most climbed mountain in the world and that it was a relatively easy mountain to climb. This sounded like the perfect place to start my climbing career though at this time I only had hiking to the top in mind. This was in the winter and I decided I would climb it that summer. I tried to convince everyone I knew to do it with me but no one was interested. I tried for months and no one, so I didn't do it that year but that was when I started rock climbing through the college at Rock City Climbing Center in Anaheim Hills CA. I met my friend Brian and started climbing with him pretty regularly.
One day I brought up my desire to climb Mount Whitney and he said he would be interested in rock climbing to the top but not hiking which sounded amazing to me. Having one partner committed I reserved 6 permits to enter the Eastern Sierra through Shepard's Pass with the intention of also climbing Mt Tyndall, Mt Russel, Mt Whitney and finally Mt Muir over 9 days. Over the next few months we recruited 4 more people to take the trip with us giving us 3 two man teams, two teams that would do class 5 climbing and the other team nothing more than class 3. We climbed the 4 mountains by class 3 routes except for the Fishhook Arête 5.9 on Russel. I climbed this route a year after I started rock climbing almost to the day.
This trip was exactly what I wanted in my life. It had everything I was looking for but I had trouble finding partners that had common desires and or ability in LA. I went through a few different partners with several failed attempts on other California 14ers. Some of the failures were as much my fault as my different partners. After a few years I moved to Grand Junction CO to get out of the city and be closer to the mountains.
Being from a big city like LA everything seems impossibly expensive, even being a welder the best I could afford on my own was a studio apartment in a shitty neighborhood. When I got to Junction things started to seem more within reach. The local climbing gym at the time was poorly managed and really run down so I came up with a plan to build a brand new gym. I buried myself in plans and stopped climbing. At some point I backed down from these plans and bought a house that was built in 1938 and needed a lot of work. So I buried myself in remodeling this house. I started tearing each room down to the studs one at a time and completely rebuilding the house bringing it up to modern codes for framing, electrical and plumbing. During this 5 year period I worked full time as a welder, started a side business doing drafting and worked on the house, climbing happened but hardly ever. In 2009 I was completely burned out and on a whim bought a white water kayak and became as obsessed with kayaking as I used to be with climbing.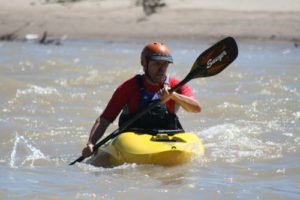 As the kayak season came to an end for the winter I started to go back into the climbing gym. In January of 2010 the owner of the gym mentioned that he was trying to sell it. This wasn't the same owner from when I first moved to town, this guy was doing his best to turn the gym around but he bought it right when the economy crashed and had a few personal things go on so after only a year he was looking to get out. This was a real bummer because he was an awesome guy and was doing a lot for the climbing community in Junction. It turned out to be a real blessing for him though, he got hired on as the assistant director for the outdoors program at Colorado Mesa University and is now the director, a job that fits him perfectly and he's doing an awesome job of introducing college kids to all sorts of outdoor activities.
Only having it for a year he hadn't paid off the loan yet so I actually bought the gym from the owner that had it before him. On St Patrick's Day 2010 I signed papers with a guy named Patrick to buy the Grand Junction Climbing Center, the day after I got married to my now ex-wife. For almost two years of owning the gym I still worked full time as a welder. I would work from 8-4:30 then come to the gym and build new walls and a training room, set routes and well, run the business. In Nov of 2011 I quit my day job and ran the gym full time until Jan 2015 when we closed the gym for good.
During my time running the gym I focused on bringing the local climbing community together with the help of the Western Colorado Climbers' Coalition, of which I still sit on the board. I worked hard to properly teach new climbers and became a certified instructor through PCIA. I helped organize and host comps for the western slope region of the Colorado High School Climbing League.  I organized trail building and trash pick-up events as well as fundraisers for the WCCC.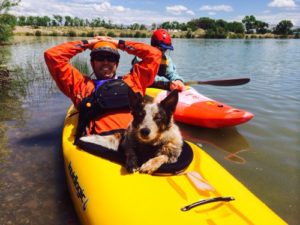 I continued kayaking through my time owning the gym. We ran an adaptive climbing program at the gym for Colorado Discover Ability and I became friends with the program director of the time. One day he mentioned that he was taking a group of Veterans from the VA down the Moab Daily in duckies that weekend and I volunteered to be a safety boater in my kayak. My job was to sit in holes in the middle of the rapids and assist any swimmers that fell out of their boat. During the trip I met Ryan, the director of the VA program and he told me of a new hard shell white water program that he was starting and asked if I could help. Always excited to introduce people to my passions I jumped at it. Along with the VA program we also started up a local chapter of a national organization call Team River Runner. TRR works with Veterans with disabilities and teaches them to kayak. Through this I became ACA certified as a kayak instructor. I acted as Chapter coordinator and lead instructor until Mid-2016 when I came out to LA. I am still heavily involved but now more on the regional level. I organize and run 2-3 regional events every year for the Central Rockies Region. I got involved with this program to help others but over the last few years as I went through a divorce, lost my business and my house; TRR has helped me far more than I have ever helped them. I remember at one point, during the height of my divorce, going down the river with a group of vets and all I could think was "I have an amazing life" and everything else was a little easier to deal with.
This pretty much leads up to now. I am moving into my DIY camper and I intend on traveling around North America in it with my dog Aukie. I want my life to be full of adventure! I want to have more time to chase my dreams and not all of my dreams are things that will make money but some will. I had a taste of owning my own business when I owned the climbing gym and I want to go back to that, working for myself doing something I love. I want to have the time to volunteer more and have more positive impact in other people's lives. I want to train and get strong and climb hard. I am boiling my life down to only what I need to live so that I have more time and energy to do more of what I want.
I hope you enjoy following my adventures and I hope it inspires you to go have some adventures of your own!
Qualifications
Climbing – since 2001
White Water Kayaking – since 2009
Owner/Author/Publisher, Junktown Guides LLC
Freelance shaper for climbing holds.
Athlete, Evolv Sports – since 2018
Athlete, Rock City Climbing Center – since 2018
Board Member, Western Colorado Climbers' Coalition-since 2011
Regional Event Organizer, Central Rockies Region, Team River Runner – Since 2017
On the Organizing Committee for the Adaptive Climbers' Festival 
PCIA certified climbing instructor
ACA certified white water kayak instructor
Chapter Coordinator/Lead Instructor, Grand Junction Chapter of Team River Runner – 2012 to 2016